Football Betting
How to bet on football games at Bodog?
Selection of Games
Bodog covers all games from the National Football League (NFL) and the Canadian Football League (CFL), as well as NCAA College Football. This means that you have a wide variety of games to bet on throughout the year.
Types of Bets
There are several types of bets that you can place on football games at Bodog. These include Moneyline bets (betting on which team will win), Point Spread bets (betting on the margin of victory), and Over/Under bets (betting on the total points scored by both teams). You can also place bets on individual player performances, otherwise known as Player Props, and other specific events within the game.
Live Betting
Bodog offers live betting, where you can place bets on a game as it happens. This allows you to take advantage of the shifting odds as the game progresses.
Odds Display
Bodog provides detailed odds for each game and bet type. These odds are usually displayed in American format by default, but you can change them to Decimal or Fractional format if you prefer.
Ease of Use
The Bodog platform is designed to be user-friendly. You can easily select the NFL, CFL, or NCAA option from the sportsbook menu, browse the available games and bets, and place your bets with a few clicks.
Betting Tips and Guides
Bodog also offers betting tips and guides for football games, helping both novice and experienced bettors make more informed decisions.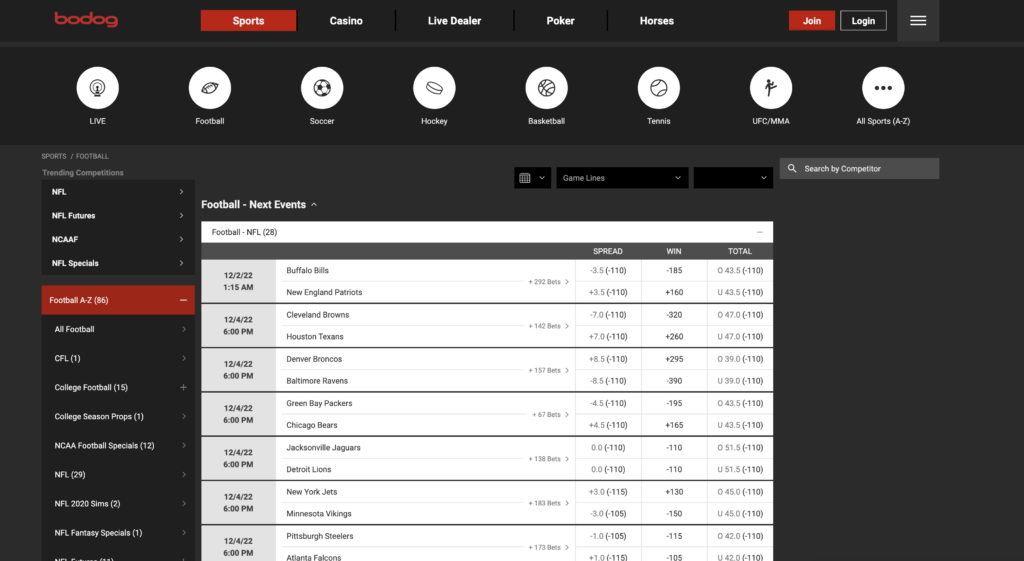 Types of football odds at Bodog
| | |
| --- | --- |
| Moneyline Odds | These odds are for bets on which team will win the game. For example, if a team has odds of -150, you would need to bet $150 to win $100. If a team has odds of +200, you would win $200 if you bet $100 and your team wins. |
| Point Spread Odds | Point spread betting involves a favorite and an underdog. The favorite "gives" points to the underdog for betting purposes. For instance, if the point spread is -3.5 for the favorite, that team must win by four or more points for bets on them to pay out. Conversely, the underdog could lose by up to three points, or win the game outright, and still cover the spread. The odds associated with point spreads usually range around -110, but they can vary depending on the matchup. |
| Over/Under Odds (Totals) | These odds involve betting on the total points scored by both teams combined. Bodog will set a projected total and bettors can wager whether they believe the actual total will be over or under that amount. Like point spread odds, over/under odds typically hover around -110. |
| Futures Odds | These are odds for events that will happen in the future, like which team will win the Super Bowl, or who will be the MVP. These odds can change throughout the season based on team and player performance. |
| Prop Bets Odds | These are odds for specific events within the game, like how many passing yards a quarterback will have, or who will score the first touchdown. The odds for these bets vary greatly depending on the specific bet. |
| Live Betting Odds | Bodog offers live betting, which allows you to place bets as the game unfolds. The odds for live betting can change rapidly based on the game events. |